About Us
Company Profile
ICPBB stands for International Copyrights Protection Bureau for Brands. We are an independent organization which provides security of intellectual property rights for logo & website all around the world.
Who We Are
ICPBB proudly operates to ensure absolute protection of copyrights to our customers. We have been providing logo & website copyrights, globally, for the past 20 years through offline mediums. The radical boom in digital advertising & related copyright infringement issues stimulated us to expand our domain of operations to online channels, in the year 2009. At ICPBB, the business operations are guided by the ideology of transparency, authenticity and originality. These principles have made us what we are today – an internationally recognized body dedicated to the protection of brand copyrights.

With our extensive experience of 20 years, we have created successful alliances and partnerships globally. This furnishes a robust network of legal support for all our customers. Regardless of what state or country they reside in, they can voice out their issues related to copyright infringement as per the jurisdiction of their respective countries.
What We Do
ICPBB provides intellectual property rights for brands by guarding their logo & websites. We secure your creative expressions by authenticating your logo & website and providing you with its copyrights in the form of a sealed certificate. This certificate serves as your shield against those individuals who are indulged in imitating and counterfeiting your intellectual property on both online or offline mediums.

We also provide FREE consultancy regarding brand copyrights. ICPBB does not only create awareness about the significance of intellectual property rights, but also provides a ready-made solution to its customers by granting lifetime protection of their logo & website rights for a nominal fee of $3000.

This fee includes all government filing fee, brand copyright registration and processing fee and ICPBB's professional fee. There are no hidden or unanticipated costs involved during or after the registration process.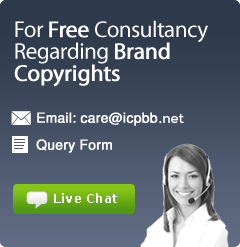 WHY CHOOSE ICPBB?
Global alliances and partnerships.
The Copyright Registration process is quick, low cost and hassle-free.
Offers the right value for money.
Certified body to protect your logo & website from infringement.
100% Brand Copyright Guarantee.
FREE Copyright Brand Consultancy.