Our Process
At ICPBB, registering a copyright for your logo & website is a sequential process containing five dynamic steps. Violation of any or all of them may lead to an unsuccessful attempt to secure your brand. Kindly ensure that you follow these steps:



Register yourself online with ICPBB by providing your email ID and
setting up a unique password.

Fill out our Copyright Registration Form by providing the required information about
the intellectual property you wish to secure.

Upload your logo files in both color and gray scale formats, having
the extension of *.pdf, *.gif, *.jpg or *.psd.

Choose your mode of payment and billing options to pay your copyright
registration fee of $3000.

Get your sealed certificate delivered to your personal account area within a week. Your
copyright will have a pending status during that period. Once you receive your sealed
certificate, you can print it out for your personal record.
Our Criteria
ICPBB works on fair principles of originality and creativity. If a creative design belongs to you, then ICPBB takes the responsibility to protect your design from getting counterfeited. To ensure that your submitted design is your intellectual property, our audit team may verify it by validating;
The mission and values of your company.
The designer of your logo & website.
The logo & website company.
Clones (if any) available on the internet.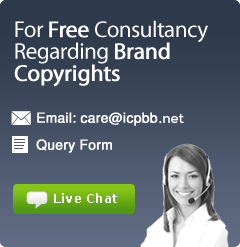 WHY CHOOSE ICPBB?
Trusted by thousands of
international organizations and creative individuals.
Global alliances and partnerships.
The Copyright Registration process is quick, low cost and hassle-free.
Offers the right value for money.
Certified body to protect your logo & website from infringement.
100% Brand Copyright Guarantee.
FREE Copyright Brand Consultancy.
24x7x365 Customer Support Center.