Copyright Checker
Testimonials
JAMES WALDO, CEO BOOKABOOK

When I started up my online business, I had little time to contemplate or give importance to securing my brand identity. My best friend designed my logo and website, which was impactful enough to generate dollars for my business. Little did I know about copyright infringement till I came across a Copyright Consultant from ICPBB. He told me how a small copy paste option can cost me millions and earn the infringer billions. This brought forward the need of getting a copyright for my brand's logo & website. The sealed copyright certificate I recently obtained from ICPBB, is now my savior against all those copycats who might replicate my brand identity in the future.

Dealing with ICPBB has been an absolute delight. And I cannot thank this organization any less for doing such a big favor to my brand on a nominal payment of $3000. Good luck!
ARTHUR MARTINEZ,
OWNER DE'FLORA

"Registering a copyright for my brand's logo was definitely one of the best decisions of my life. ICPBB not only changed my outlook towards the whole brand protection scenario but also provided me a sealed certificate which has granted an infinite life to my brand's logo. I personally found their service really quick, cost-effective and reliable. For all those who want to get their brand identities protected or expand their businesses internationally, ICPBB offers the ultimate solution. Good luck!"
ALVIN BROWN,
CEO BROOKES
TECHNOLOGY

ICPBB is an outstanding option to get prompt, cost-effective and internationally certified copyright registration for your brand's logo. In this era of digital marketing, the threat of counterfeiting of your creative designs is increasing day by day. I personally believe that if we don't get on this copyright registration wagon now, we are going to be left behind by our imitators. ICPBB is a highly recommended solution in this regard. A sense of security prevails in my business ever since I have received the sealed certificate for my brand's copyright, from them.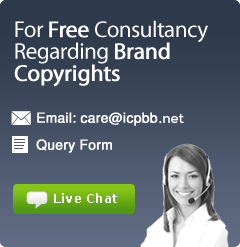 WHY CHOOSE ICPBB?
Global alliances and partnerships.
The Copyright Registration process is quick, low cost and hassle-free.
Offers the right value for money.
Certified body to protect your logo design from infringement.
100% Brand Copyright Guarantee.
FREE Copyright Brand Consultancy.